Hi,
I saw a similar post to this about the viewer hanging on files that were "too large", but I have had problems with the viewer being unresponsive for any size of file. That will typically result in: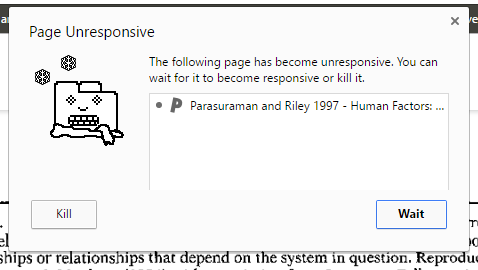 Before this message appears the viewer won't allow me to scroll or select text to highlight. As well as that, I can't select any menu items. I Just started having this problem yesterday and I'm not sure what changed. Any ideas?
Edit
It seems like it could be a syncing problem. The syncing dot in the top left is continuously flashing. However, in the Paperpile app the Google Drive sync is functioning without any problems. This problem has also persisted over several sessions opening and closing the Chrome browser (this seems to be in agreement with the troubleshooting instructions here).
Edit 2
I am now pretty sure it is based on trying to sync to Google Drive (the problems occur when the dot starts flashing). And a couple of times (out of many) I have gotten an error about the file being changed outside of Paperpile. But again, this has been occurring over multiple sessions.
Edit 3
I restarted the browser, and turned off the automatic sync and seemed to have good performance until I tried to sync using ctrl-s. This resulted in laggy performance, followed by an unresponsive page prompt (like shown above). Selecting Wait does not work. The dot keeps on flashing.