I see that the iOS beta expires in 10 hours. Can we expect an update before then?
I strongly endorse this request to enable iOS import of a Safari-loaded pdf itself, not just from the article's web page. The latter often fails to work, especially from off-campus. Direct import of a Safari-loaded pdf, via the Paperpile icon behind the Safari "Share" button, would greatly ease and simplify the workflow, but the Paperpile icon is not available under those circumstances. If there's any way to rectify this, that would be fabulous. Beyond this issue, the iOS version has been working well for me – thanks.
Got the update. Seems to work fine, but everytime it syncs an "Error syncing your library" message appears and then goes away again. Is this a bug, or is something actually going wrong during sync?
So I confirmed that sync was broken, but I fixed it by logging out and then logging back in again…
So far I have no issue. Everything works just fine, I really think this app is helpful for academia and it will change the way we reference our works. Really appreciate that,
Longtime desktop user. Please send Android beta invite. Thanks!
Hi I'm still living in hope of seeing an invite to the iOS beta test one day!
Paperpile remains better than any other method I've ever had for managing references, but I think having it on my iPad might just change my life.
Hi all,
Relatively new paperpile user here but already completely converted to the web app. It is excellent!
I would love an android beta app invite if possible.
Thanks in advance,
Dane.
Hi everyone. We've released a new update for iOS and Android today. Here is what's new:
New design of the app (work in progress and still rough but the final design including dark mode is on its way )
New design and improvements of the "Share with Paperpile" dialog
Improved accuracy of automatic PDF downloads
Added automatic PDF downloads in the main app
Added "Browse for PDF" feature to the main app and the "Share with Paperpile" dialog
Replaced sync button with "Pull to refresh" (usually not needed as sync is automatic)
New placement and design of file sync progress (less obtrusive by default but with more details if needed)
Various performance improvements (up to 25% faster in certain situations on Android).
As we are getting closer to a public beta and the final release, your feedback is more valuable than ever!
(Thanks @jirka and @andreas and of course @carlos for putting together this release!)
Hello Stefan. With today's new update…I'm running iOS 12.4.1 on an 11-inch iPad Pro, circa February 2019. I was able to install the new update via Testflight with no trouble, and it looks nice, but when I select the "On your device" tab to see papers stored locally, the application crashes. I've now reproduced this crash numerous times. The "All papers," "Starred" and "Trash" tabs do not have this problem. -Erik
Forgot to mention: same thing happens on my iPhone X, also running iOS 12.4.1.
Very good progress, but it would be good if you can also remove the items that are selected.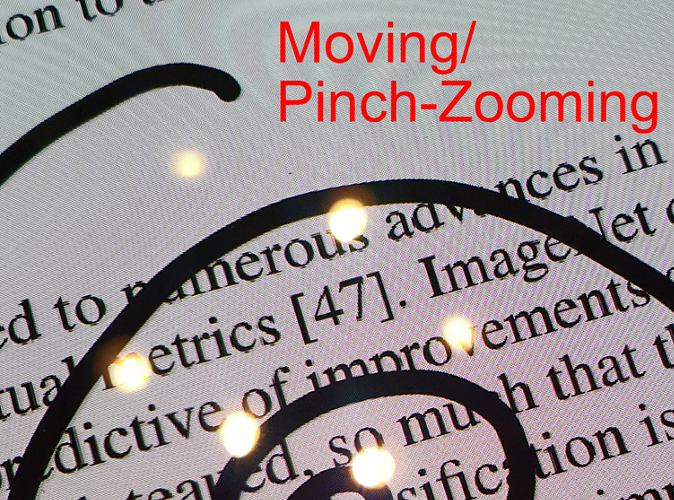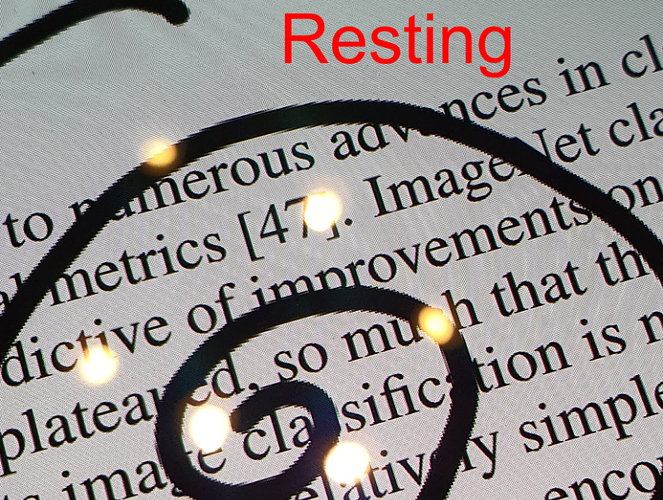 Looks nice but there's a strange bug (?)
When writing something the lines are high-res and smooth, once I finish writing the line becomes low-res and pixelated. When I pinch-zoom or move the page around, the line becomes high-res and smooth again.
Is this intended and shouldn't it be exactly the other way around?
I'm using a Samsung Tab S6.
I perhaps have a hint at why the "On this device" screen is crashing: it's showing a file I have downloaded as -1 B in size: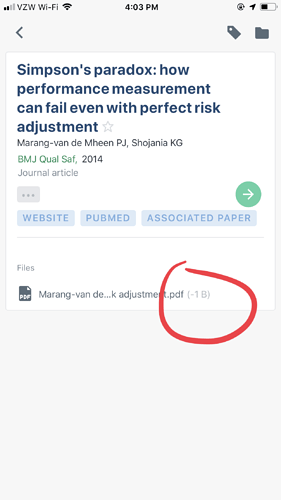 Nice update, in general it works remarkably well. But a couple of issues:
I, too, get the crash when I click "On Your Device". This has always been true in the previous version as well. I found the "clear local files" button in Settings and cleared everything, but it still crashes when I look for "on your device."

It started up very nicely a couple of times, but it has also hung or taken abnormally long a couple of times.
Another bug seems to be, that book references don't display correctly, they all look like this, omitting the publisher info.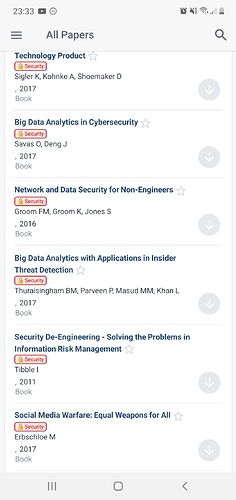 Thanks. Yes, that's not implemented yet. It only works well for articles at the moment. We actually have code already that correctly formats all 30+ reference types but it did not make it in this update.
It's weird because we tested quite a bit and never saw that and now many users seem to have this issue. @carlos sifted through the logs and it seems there is a hard crash of the database library we use. We are not on the latest version of this library so an update of this library might help.