The forum is for feedback. Read the initial post of this thread on how to get access properly.
Hello! I wonder where can I sign up for any future beta testing? Thanks!
Night mode (inverted pdf color) is really appreciated! However, there seem to be a number of other methods for doing this, including some which mostly preserve colors other than black/white (the windows application NegativeScreen manages to do this with its Smart Inversion mode: https://zerowidthjoiner.net/NegativeScreen).
It needn't be perfect, but just to be able to have red lines in plots look something close to red, blue close to blue etc would be a small but important improvement, since the text in figure captions often refers to the colors used.
Hi @stefan et al.,
The iOS beta on TestFlight is set to expire in 2 days. Can you please release a new build so we aren't locked out?
Thanks,
Max
Hi everyone,
We have just released a new version. It includes many fixes and quite a few new features (see full changelog below).
The most visible change is that we have a bottom tab with a "Recent" tab now. It allows you to quickly access the papers you have opened recently. The two bottom tabs look a bit lonely at the moment but it will make more sense with the next updates… So stay tuned. As always, all feedback is welcome.
Quick acess to recently opened papers in "Recent" screen
EZProxy support for off-campus file downloads
Star, unstar, trash, untrash and delete references
Faster opening of PDFs with many annotations (iOS)
Fix some stuck notification during PDF download (Android)
Fixed incorrectly displayed file size for some files
Attempt to fix crash when accessing "On your device" (feedback welcome!)
Allow adding labels and folders to references in search results
Many more tweaks and bug fixes
Attempt to fix crash when accessing "On your device" (feedback welcome!
Crashes every time!
Note regarding layout: My screen only shows about 4 references at a time. Seems it should be possible to show at least 7-8 (Which is how many emails Gmail can display at once with my current settings). That is with all the information displayed in a more efficient way. I would also suggest eventually having a "compact view" that could show even more…
"On your device" still crashes my device - Moto G5s plus, Android 8.1.0
Hey guys, when there willl be new beta tester positions available? I've fullfilled the form, but never got contacted. (I have a Pixel 3 XL with the latest Android version).
On which device are you?
We tried many layouts, turned out to be really tricky. It's not really useful to abbreviate the title which takes most of the space. We will probably more aggressively abbreviate the author list. Actually we have started that and will show first and last authors.
Also it's planned to hide the toolbar on top while scrolling (like for example in Google News) and make the bottom tab bar smaller on phones.
I've filled out the request form to be included in the iOS beta a couple of time now and still no invite. How can I find out whether it's likely I'll get one? I love paperpile, but would really love to get involved in the beta.
I've been testing Ipad version of Paperpile,
The existing references were successfully imported into the Ipad version, there were no problems accessing the abstract.
But, even though I can see the attached pdf file icon below the abstract section, it would not open however I tried. Is it normal or pdf opening function not implemented yet?
Do I have import all the pdf files once again on Ipad version of Paperpile?
Besides, clicking "On My Device" leads to app crash, as many of the members of this forum verified.
Thanks
I'm using a Moto G7 Play with Android 9, and I'm having consistent issues using the app to annotate PDFs. The most vexing problem is that the app keeps losing my annotations (highlights and notes) and not syncing them with the files stored in the Paperpile folder in my Google Drive. This behavior is frustrating and makes the app unusable for reading and annotating papers, which was how I had hoped to use it in the first place.
This is my first feedback, so please excuse me if I'm not doing it properly.
Overall the app is great, and I found no errors at all - running Android 10 on Pixel 3 XL.
I don't know if this was already discussed but I really think it's annoying to deal with the zoom level while reading my papers on landscape mode. Because the zoom level of the PDF isn't kept the same after rolling to the next page (see the image attached, captured in the exact moment).
Is there any possibility to keep the zoom level intact while turning the page?
Thanks.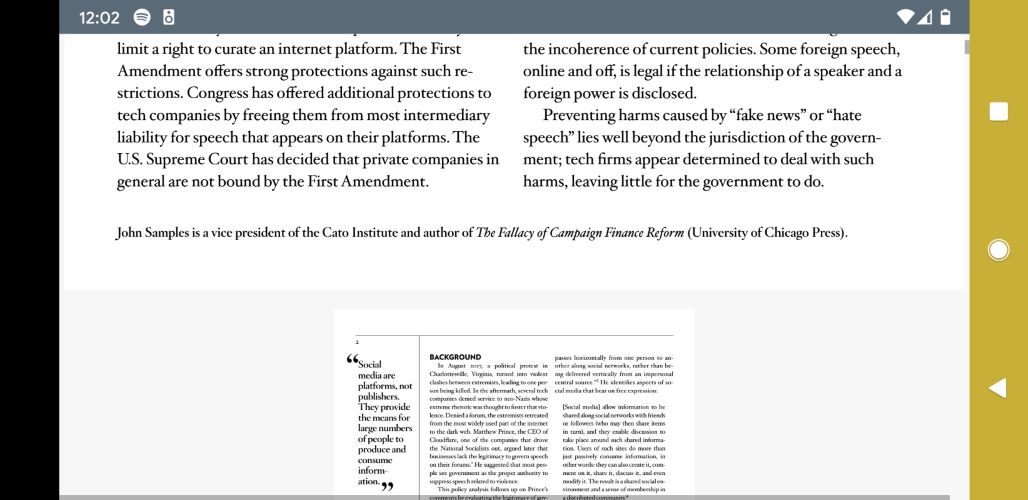 I've submitted the form a couple weeks ago but have not yet received the beta invitation and would love to use PaperPile on my iOS devices (primarily my iPad Pro). I have been using Paperpile for a couple years and absolutely love it. Do we have an ETA of when this invitation will be sent and/or when the public version will be available?
Use the in-app chat in the webapp to request access as stated in the first post of this thread.
I have been a subscribed paperpile user for 3 years and payed >$100 for the subscription. I signed up for the iOS beta test program in late 2018, have been waiting for the (developer) team to send me an invitation but received nothing (as of 01/23/2020). It's been years of waiting and I cannot help wondering "does this so-called iOS beta version" really exist?"
sure my account is zhoux379@umn.edu thanks!