Please introduce an option for continuous scrolling in Paperpile beta pdf viewer using up/down keys.
That is a bug. Thank you for letting us know.
It seems to be still a bug in my set up; iPad pro 2021 iPadOS 16.5 and PaperPile 1.3.5. Do you know when this might be resolved?
Welcome to our forum, @ibdj! The report above refers to the web version of the PDF viewer. Is this happening for you on both web and mobile? Could I trouble you to share some more details, ideally screen recordings demonstrating the issue on both environments, either here or via chat/email (support@paperpile.com)? Thanks in advance.
Hej @vicente Oh, sorry for that. I didn't see. No, the pdf viewer in my browser does continues (vertical) scrolling. My iPad doesn't. Do you still want a screen recording of that?
Thanks for clarifying, @ibdj. Scroll direction is horizontal by default on mobile, but you can change it by clicking the gear icon from any open PDF. Screenshot below is from an iPhone: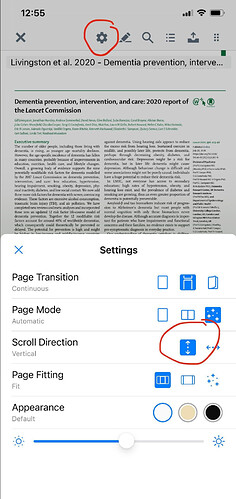 Let me know if you're not seeing that on your end, or if there's anything else!
Hi @vicente Thank you for getting back to me on this. Something weird was up with my iPad, I could not see any settings for scroll direction, but I reinstalled the app and turn on and off the iPad and now everything works. Thanks!