I am having issues adding my university's proxy to paperpile (My university is St. John's University, aka SJU). When I choose SJU as the university in Paperpile, it defaults to http://jerome.stjohns.edu:81/login?url=$@. My university gave me a similar (but a little different) URL to use. When I change it to what my university recommended, https://jerome.stjohns.edu/, an error pops up and it won't let me add it. See the screenshot: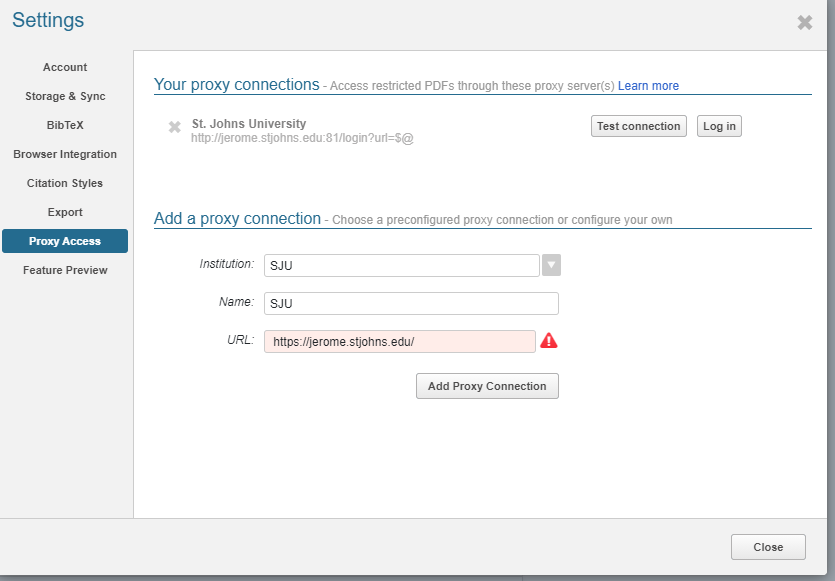 As you can see, I added SJU as a proxy using the Paperpile defaults (at the top of the screenshot) but it doesn't work. When I change the URL to what my university provided, an error comes up (the red part of the screenshot).
Trying to log in using Paperpile's default URL (http://jerome.stjohns.edu:81/login?url=$@), I get the error below when I try to log in. Oddly, when I try to log in using the pre-populated URL from Paperpile, the URL resolves as http://jerome.stjohns.edu:81/login?url=http://onlinelibrary.wiley.com. Is this usual or is it not supposed to happen?
My university's library has suggested I reach out to IT on campus, but I wanted to see if the Paperpile Forum community may know what I'm doing wrong before I contact them. Any ideas? Thanks so much.