Hi,
Adding a comment to a highlight that has strikethrough produces unexpected behavior. In the image below "Prejudice" has been marked up with strikethrough and a comment has been added. You can see that the comment is also formatted with strikethrough.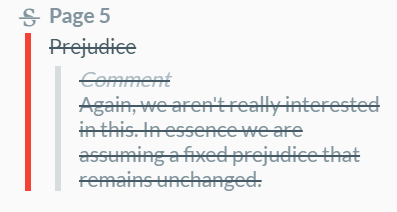 I would expect the marked-up word to have certain formatting, and the comment to have its own formatting. Specifically in this case, the comment not have strikethrough applied to it.
It seems like the behavior for highlighting and underlining works as expected.