I'm happy to announce that the new Paperpile is available for testing as private beta version

.
What's the new Paperpile?
It's a completely rewritten version of Paperpile's web app and browser extension. It will remain the Paperpile you know and love but we've added many new key features and hundreds of small improvements.
The new Paperpile will also make it easer for our team to add new functionality and improvements in the future — a prerequisite for our ambitious roadmap ahead.
How to take part in the beta?

Sign up here
Once your account is activated, you will get an invite email with instructions how to try out the new Paperpile.
How to give feedback?
Simply reply to the invite email or use the feedback button on the lower left in the new app: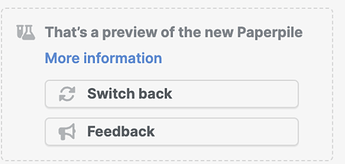 Important: Even if you don't encounter problems, please share first impressions and general feedback. It's the only way to know if we are on the right track or things need more work.